Sapporo Men 130
強い弾力と風味が特長の札幌タイプの麺です。味噌ラーメンや札幌しょう油ラーメン等、濃い目のスープと相性抜群です。
This noodle has classic Sapporo ramen type firm bite and taste. The flavorful Miso and SapporoSoy Sauce soup base are perfect matches.

Sapporo V Spec
弊社の人気商品、Sapporo menを卵抜きで再現したVegan対応の麺です Sapporo men同様の食感は、味噌ラーメンや札幌しょう油ラーメン等、濃いのスープと相性抜群です。
We developed our signature Sapporo men without using eggs. It will be a perfect noodle for Vegan customers, with the exact bite and taste of Sapporo men. Pairs well with thick flavorful base such as Miso, Shoyu, Tantan men, Spicy ramen.
North Land
札幌タイプの麺を更にのどごし良く、もちもちに仕上げました。どんなタイプのスープにも良く合い、また冷やしにしても美味しいです。
A Sapporo type noodle with more chewiness than the original Sapporo. We have improved on the texture and finish. Pairs well with all soup types. Also, very good when eaten cold.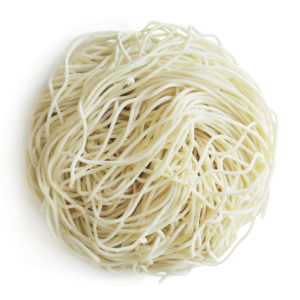 Hakata Men 120
九州博多ラーメンタイプ、26番の細いストレート麺です。カチッとした食感は豚骨ラーメンや、しょうゆラーメンなどにも最適です。
This is a Thin Kyushu Hakata Ramen type noodle cut with #26. This firm noodle matches perfectly with Tonkotsu and Shoyu.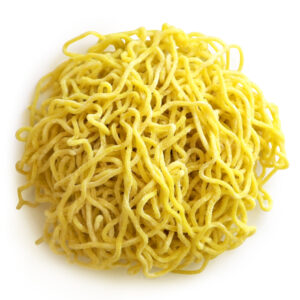 Jaga men
お湯の沸点が低くなってしまう、高所にいらっしゃるお客様用に改良した札幌タイプの麺です。平地で沸騰していないお湯で茹でても、スッキリと茹で上がる麺となります。醤油ラーメン、味噌ラーメン等との相性が非常に良い麺です。
This noodle is perfect for cooking at a location with higher altitude where the waters boiling point drops. Pairs perfectly with Shoyu or Miso based soup.
C-H 120
細麺の中華そばタイプの卵麺です。あっさり系のしょう油や塩ラーメンとの相性が非常によく、どこか懐かしさを感じさせる仕上がりになってます。汎用性が高く、一種類で、いくつものスープと合わせることができます。
This is a thin classic Tokyo style egg noodle. It pairs especially well with Soy Sauce and Salt based soup. Reminiscent of the classic Tokyo style ramen.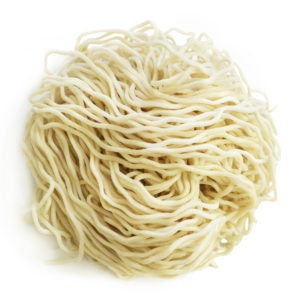 Tsukemen T-200
つけ麺用の18番の麺です。のどごしが良く、プリプリとした食感が特徴となります。4分以内に茹で上がり、つけ麺用の麺の中では、早ゆでにも使用できる麺となります。
A noodle for Tsukemen (Dipping) Noodle cut in #18. The noodle has an enjoyable smooth feeling to the throat along with a bouncy elastic texture. This noodle cooks in less than 4 minutes and is easy to use compared to other Tsukemen products. 
C-F 210
つけ麺用の16番で切った麺です。この麺の持つ濃厚な味わいと噛み応えのある食感をお楽しみ下さい。
This is a thick noodle for tsukemen cut in #16. This noodle is robust in flavor and is firm to the bite.